Balloon Centerpieces & Wedding Arches
Every event needs a fabulous focal point that wows guests from the moment they arrive at the venue and continues to provide a festive backdrop the entire time. Balloon centerpieces and wedding arches fit the bill perfectly! Stoughton, MA based Boston Balloon Factory serves the entire greater Boston area. Let our balloon experts inspire you with the following creative ideas for incorporating centerpieces and arches into your party décor.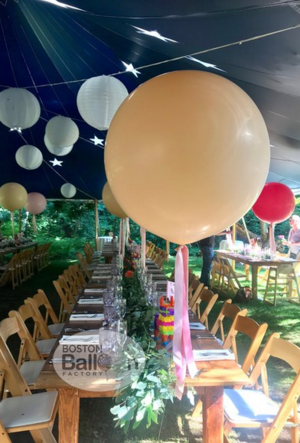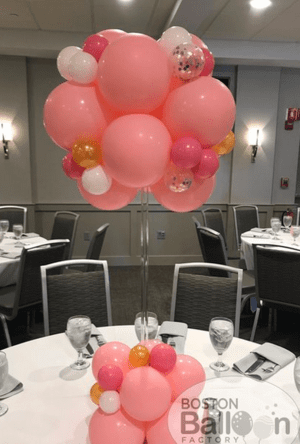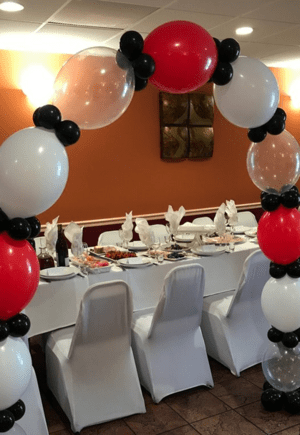 Transparent balloons. One stunning idea for a balloon centerpiece or wedding arch is to fill transparent balloons with objects that complement the theme of the wedding or party. You could fill them with flower petals, silk hearts, sand (for a beach-themed or destination wedding), glitter, etc. Let your imagination run wild!
Tailored tails. Usually, balloons float above ribbons or strings. Why not create balloon centerpieces that float above a tail of flowers similar to those in a bride's bouquet? Or, have them float above tails wrapped in sparkling lights?
Two in one. What's better than an amazing wedding arch crafted of balloons? An amazing wedding arch crafted of balloons inside other balloons! Yes, it can be done!
Hot air balloon centerpieces. Balloons attached to baskets make whimsical table centerpieces. Fill the baskets with flowers, candies, or party favors.
Fairytale arch. The bride will feel like a princess when she poses with her groom for photos under an arch crafted of soft pastel balloons woven with fragrant flowers and delicate tulle or lace.
Simple streamers. Sometimes, less is more! Make an elegant, classic, impactful statement with your balloon arch by choosing one or two colors of balloons with floor-length, dangling streamers.
Arch of love. What could be a more appropriate design for a wedding balloon arch than an arch created with pink or red balloons and shaped like a heart?
Make it shine. Consider making an arch of foil balloons interwoven with strands of white lights. The light will reflect off the foil and emit a pleasant shine that will add to the festivities.
Make your centerpieces double as thank you gifts. Once the party is over, there's no need for your balloons to go to waste! Consider incorporating your balloon centerpieces into a fun take-home for lucky guests. Attach the balloons to a box of candy, a potted plant, a vase of flowers, or even a bottle of tequila! The guests who stay until the end will have the honor of bringing home one of the centerpieces!
Confetti or rice arches. One fun wedding arch idea is to create an arch filled with confetti or rice granules. As the happy couple rushes out to their getaway car to be whisked away to their honeymoon, guests pop the balloons to shower them in confetti or rice as a festive sendoff!
Balloons make every event better – in part because they are so conducive to creativity. There is no "wrong" way to incorporate balloons into a celebration! Whether you are planning a wedding, bridal shower, birthday, or other special event, Boston Balloon Factory is Bostonians' preferred source for one-of-a kind balloon decor. We are affordable and local, and we love helping turn our clients' visions into reality. No job is too large or too challenging.
Call us today at (781) 956-9836 so we can help you make sure your next event is a huge success!